Josef K were formed in Edinburgh in 1979, originally as TV Art, by Paul Haig (guitar/vocals), Ronnie Torrance (drums), Malcolm Ross (guitar/vocals/violin/keyboards) and their ex-roadie David Weddell (bass) replacing original bassist Gary McCormack. The band all knew each other from the city's Firrhill High School. They took the name from the main character of Franz Kafka's novel "The Trial".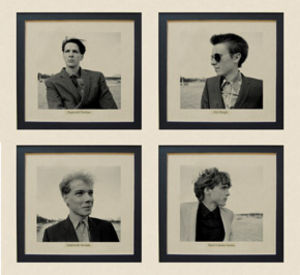 Josef K
Their first release "Chance Meeting" / "Romance" (ABS 1) was the first, and only, single on Steven Daly's Absolute Records label in December 1979. The band then signed to Alan Horne's Postcard Records, joining Orange Juice, the Go-Betweens and Aztec Camera on their roster - becoming a key component in "The Sound of Young Scotland". They released just five critically acclaimed singles and one album on the label during 1980 and 1981.
Strong "post-punk" scenes developed in both Edinburgh and Glasgow, but Josef K never felt marginalised by not being in Glasgow, though there were differences in the sounds that emerged. "Glasgow bands were more jangly and influenced by west coast Americana," recalls Haig. "In Edinburgh, it was definitely darker. There wasn't any sense of competition between the cities, though."
The band's debut album "Sorry For Laughing" was recorded during 1980 at Castle Sound Studios in Pencaitland near Edinburgh. It was shelved as they were unhappy with the album's production and only a handful of promo/white label copies exist. They returned to the studio, this time in Belgium, and recorded The Only Fun In Town in two days. The original "Sorry For Laughing" album has since been released on a CD re-issue of "The Only Fun In Town". Several compilations have also been issued since their demise as well as a number of collections of rare and previously unreleased material.
Josef K split prior to the release of the 1982 3-track single, "The Farewell Single", Haig deciding to call an end to the band while they were at a creative peak.
Paul Haig continues to produce critically acclaimed music; he worked with the late Billy Mackenzie (Associates) and recently with Jeremy Thom and Neil Baldwin in the Cathode Ray - he even returned to performing live. He runs his own label, Rhythym of Life Inc.
Post Josef K, Malcolm Ross joined Aztec Camera and Orange Juice, formed the High Bees and he also worked with Blancmange, as well as producing several excellent solo albums. He has recently collaborated with The Low Miffs and has worked with Russell Burn (ex-Fire Engines) in Stac Lee and Malcolm and his wife Syuzen Buckley regularly entertain the locals of Leith as Buckley's Chance with their country and western swing.
The rhythm section of Davy Weddell and Ronnie Torrance worked together with Nick Currie (later Momus) in the Happy Family and then Heyday (with Stephen Harrison, ex-Metropak) during the 1980s.
They didn't play encores. They were a bit existential. They were dark. They wore suits. And they never recorded anything with saxophones.